Living with acute foot pain can be a distant memory once you experience cold laser therapy.
Cold laser therapy, otherwise known as low level laser therapy (LLLT) is a proven way to treat a wide range of foot and lower limb conditions. From sprains to bursitis, plantar fasciitis, tendonitis and dermatological issues, our Brighton Road Podiatry team will get you back on your feet in no time.
Why we choose Cold Laser Therapy
There are so many long-term benefits to this therapy, making it a popular choice for patients and podiatrists alike, including:
Fast treatment time
Pain-free and gentle
Non-invasive, no needles or surgery
Medicine-free
No side effects
Backed by over 50 years of clinical application, low level laser therapy is scientifically proven to quickly reduce pain and discomfort and promote long-term healing.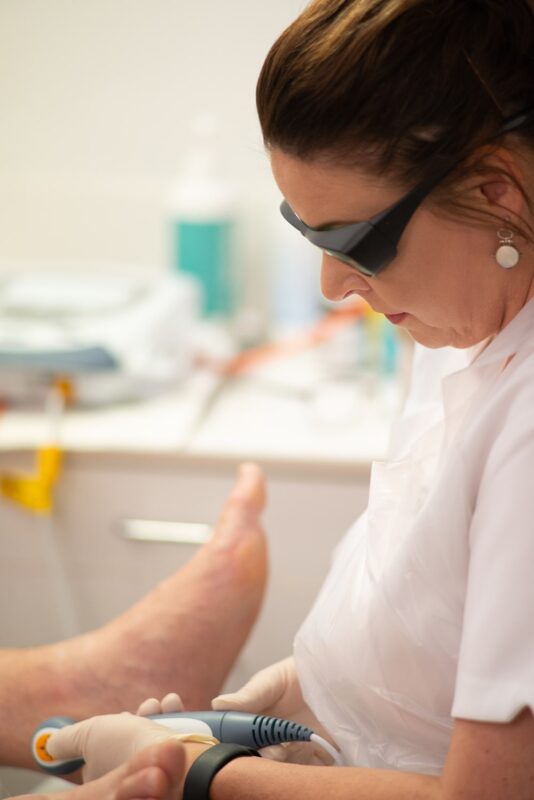 During Low Level Laser Treatment
Relax and enjoy some downtime during treatment – it's that comfortable. Our expert podiatrist will gently place the hand-held laser device over the site of your pain and, depending on the nature of your condition, treatments usually take just a few minutes. In fact, you'll quickly feel your foot or heel pain start to dissipate.
With clinically proven therapies and our highly skilled podiatry team, there is no reason to live with foot pain any longer. Book your consultation with Brighton Road Podiatry today and live life to the full.
Call today or book on-line and take your first step towards feeling great again! 08 8298 4166
Book Now
Low Level Laser Therapy FAQs
What is cold laser therapy?
Although it sounds rather modern and new-age, cold laser therapy was discovered in the 1960s and has been successfully utilised to treat foot conditions for decades.
The therapy uses a combination of infrared and red light waves to stimulate the body's natural pain responses. The light waves travel from the laser device into the skin, where they are absorbed into the injured or inflamed tissues. This triggers a healing response in the foot by increasing blood oxygenation, encouraging cartilage and collagen production, and stimulating muscle and nerve regeneration.